The market structure refer to the different ways in which markets can be classified according to various variables.
Above all, to make any market classification, the first thing we must clarify is that a market, in general, is related to a set of buyers that form the demand for a good or service and a set of sellers who constitute the supply of a given good or service.
Therefore, to make any classification of market structure, we must consider the consumers or buyers of a product, the suppliers or sellers of a product and the product that is the object of exchange.
Variables used to classify markets
Among some of the variables that are used to classify markets, we can mention different types of:
Sólo el 2% de la población sabe lo que quiere y cómo lo va a conseguir ¿y tú?
Tu dinero = tu tiempo + tu talento. A lo último, te ayudamos nosotros.
Mejora tu conocimiento en finanzas aprendiendo de los mejores profesionales, con cursos efectivos y entretenidos.
Product.
Buyer.
Competition.
Geographic area covered.
Market structure based on the product
Based on the product being bought and sold, markets can be classified into the following types:
1. Consumer products market
On one hand, the consumer goods or products market represents the market where products are commercialized that are aimed at satisfying a consumption need. This implies that these products are used to cover a need, but once the need is resolved, the product disappears.
We can give the example of a slice of pizza that is used to solve the need for hunger, but once the need is covered, the product disappears completely.
On the contrary, in the market for use products (also called investment goods or capital goods), products are exchanged that are used to satisfy a need, but after covering it, the product does not disappear, but remains.
However, these products can be of durable use, such as a computer, or non-durable use, such as a pen.
3. Industrial products market
The market for industrial products includes all products that are used as inputs or raw materials to produce other goods or services. This can be the case for a product such as steel that can be used to produce airplanes or cars.
This market includes the commercialization of products called services, in which the consumer cannot acquire ownership of the product, either because they only purchase the provision of the service; for example, if they use a public telephone to communicate. It can also occur because a service is received in an intangible form, such as educational services.
Financial markets are a physical or virtual space through which financial assets are exchanged between different economic agents, whose transactions define the prices of these assets.
In financial markets, therefore, financial products are traded that are subject to an underlying asset.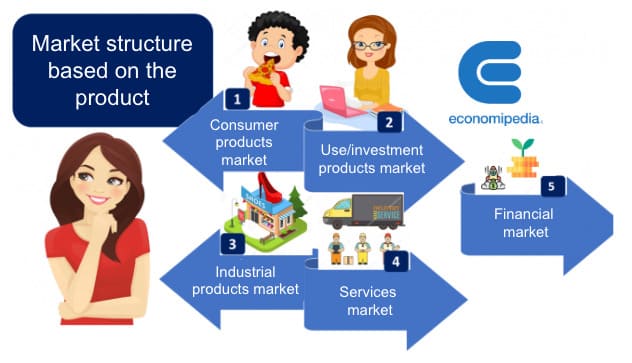 Market structure depending on the buyers
According to the characteristics of buyers, markets can be classified as follows:
This market includes all companies that purchase products not to consume them, but to resell them at a higher price than they bought them for and thus obtain profits.
An example of this would be any supermarket that purchases products from industrial companies to resell them to final consumers.
2. Industrial buyers market
Similarly, the industrial buyers market is made up of all companies that purchase production resources to carry out their production process. It could be a company that buys leather to produce shoes, bags, belts, and other items.
3. Government buyers market
In contrast, the government buyers market encompasses all government institutions that purchase goods and services to provide public services such as health, or that will be used for public investment such as the asphalt used in road infrastructure.
The consumer market represents all buyers who seek to acquire the goods and services sold in the market to be used to satisfy a need, which is why they are called consumers because they are the ones who use and consume the products.
An example of this would be a person who buys a bottle of pure water to quench their thirst.
The labor market is where the supply and demand for work converge. The supply of work is made up of the set of workers who are willing to work, and the demand for work is made up of the set of companies or employers who hire workers.
Therefore, in order to simplify, the buyers of hours of work would be companies.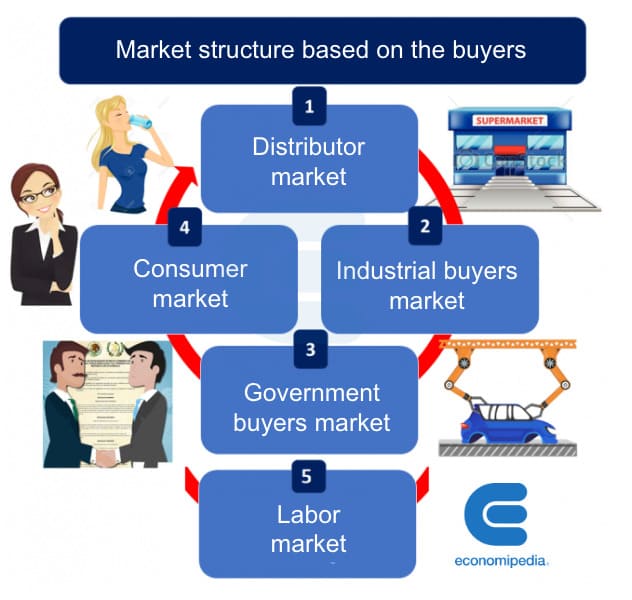 Market structure depending on competition
Based on the type of competition that producers or suppliers of products face, markets can be divided into:
1. Perfect competition market
In any case, this type of market is characterized by the existence of an infinite number of competitors, so none of them has the power to set prices within the market and practically all products are the same. For this reason, perfect competition exists only in theoretical form, but not in practice.
2. Imperfect competition market
Meanwhile, the imperfect competition market refers to different situations that we find, in which some approach perfect competition and others approach a complete absence of competition. In other words, imperfect competition is any situation that falls between perfect competition and pure monopoly.
For its part, a pure monopoly market is called when strictly one company offers the goods and services sold in a market, therefore, that company has total control over the price and quality conditions of those products.
In general, it can be said that the more competition there is, the more fragmented the market is, and the less competition there is, the more concentrated the market is.
Market structure according to the geographic area it covers
According to the geographic area it served, a market can be classified as:
Above all, a local market is one that serves a small area of the market, such as a province or a city. A pharmacy located in a neighborhood or shopping center in a city could serve as an example of this type of market.
A national market covers an entire country, extending to all cities, departments, provinces or municipalities that make up a country. For example, a supermarket chain that serves consumers across the entire nation.
When referring to a regional market, the area it serves is not limited to certain political boundaries. In this case, we can talk about a market that covers the northern or southern region of a country. But also, a group of countries such as the Central American region, that is, the market region that is served can be small or large.
Now, an international market is one that is formed by a group of buyers from different countries. These markets are generally served by multinational or transnational companies.
Thus, a global market extends to all countries in the world, where goods and services are produced and/or sold. We can say that the global market is the broadest and most extensive type of market. The process by which a global market is achieved is called economic globalisation.
In conclusion, there are a lot of ways to classify different types of markets, but the most commonly used variables are related to the elements that make up a market, such as the type of buyer, producer or competitor, type of product exchanged, and geographic area served.